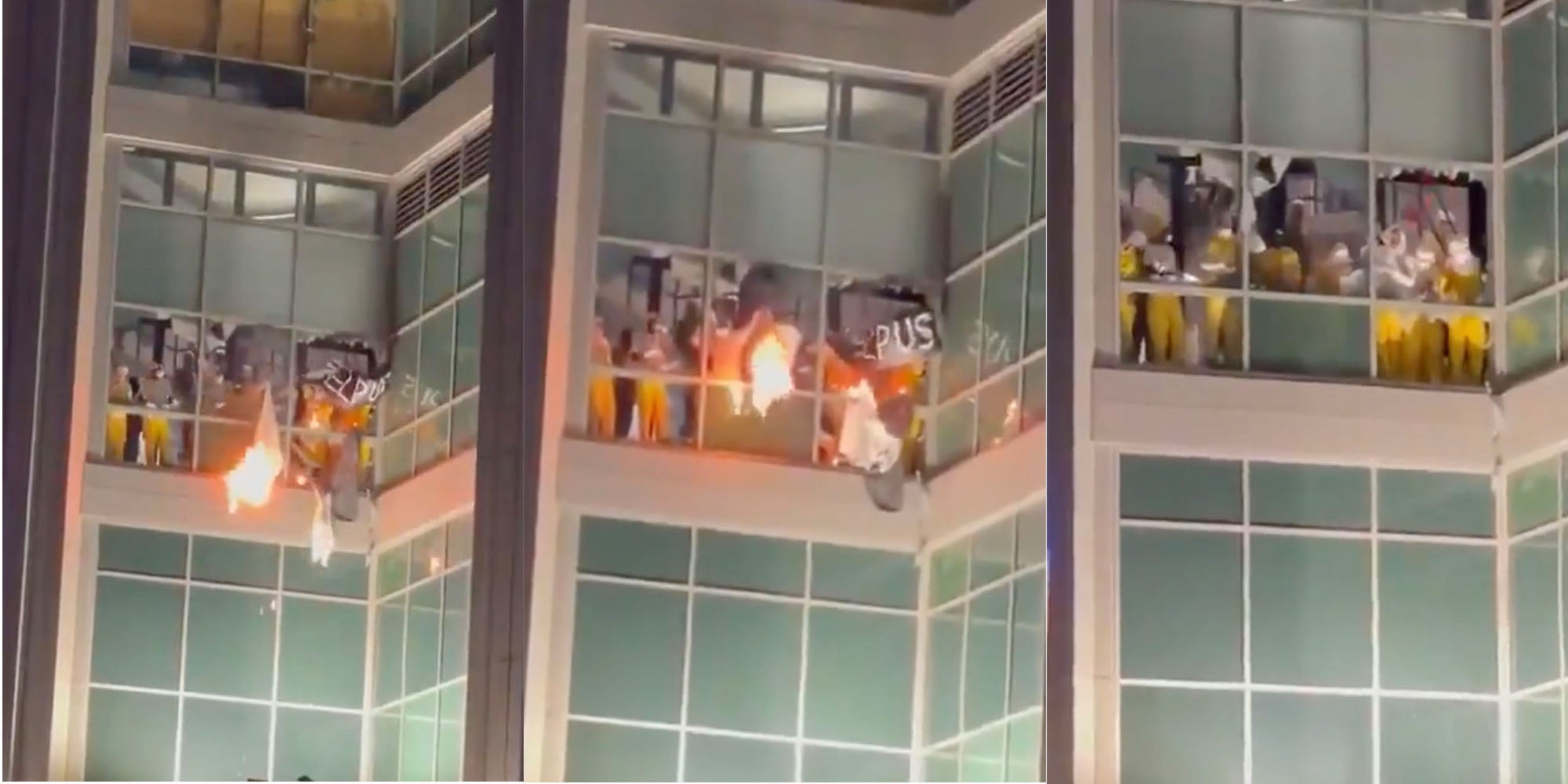 A group of inmates at a jail in downtown St. Louis broke windows, set fire to objects they threw out those windows, and chanted, "We wanna go to court" on Sunday night. The actions were characterized by at least one ally as an "uprising," and the protest is reportedly related to a similar event at the same jail just two months prior.
The disturbance broke out Sunday night around 9pm at St. Louis' City Justice Center, according to CBS News by way of its KMOV-TV affiliate. Reporter Alexis Zoros tweeted from the scene, sharing video of inmates throwing objects from the third floor of the facility.
When she asked Sheriff Vernon Betts who was in charge, given that the public safety director had just retired, he observed, "I guess I am."
"Who is in charge? I guess I am."

Sheriff Vernon Betts on the scene right now. Public Safety director Jimmie Edwards retired this past week.

Inmates have broken out of cells at St. Louis City justice center, shattered windows. @KMOV pic.twitter.com/VFAQuB91Ie

— Alexis Zotos (@alexiszotos) April 5, 2021
The TV station reported that the situation had been brought under control by about 10:30pm, with inmates moved away from the broken windows, but by 11pm, inmates broke windows on the other side of the jail and threw additional objects out the windows. Then, as that story reported, "Thirty minutes later, the inmates had disappeared again and officers could be seen inside."
Video from the Sunday night disturbance were shared on Twitter, with the Fifty Shades of Whey account tweeting out video of the inmates chanting, "We wanna go to court."
Inmates at a jail in St. Louis, Missouri chant "we wanna go to court" and set fires to protest poor living conditions pic.twitter.com/tyCbPVaavT

— Fifty Shades of Whey (@davenewworld_2) April 5, 2021
Denis Beganovic recorded "We want court dates" chants. Someone responding on Twitter linked to a March 30 Fox 2 news story explaining the possible reason for the chants: A St. Louis County Justice Center audit determining that, of 1,003 inmates being detained at the facility, "319 have been waiting more than one year for their trial, 127 have been waiting more than two years, and one resident has been waiting for more than five years."
More "we want court dates" chants pic.twitter.com/0zaZbPnK9k

— 𝐃𝐞𝐧𝐢𝐬 𝐁𝐞𝐠𝐚𝐧𝐨𝐯𝐢𝐜 (@beganovic2021) April 5, 2021
One of the more poignant tweets covering the Sunday night events came from Khalea Edwards (@314khalea), a self-identified St. Louis-based organizer whose Twitter profile declares, "Liberation for all oppressed people." Focusing on the "Help Us" banned visible in one of the videos, her tweet reads, "Uprising at the STL city jail; they yellin' 'Help us.'"
Then, in a follow-up post, she shared a Facebook post in the aftermath of a past, similar event in Feb. 6, alleging troubling conditions at the jail.
She prefaced the link by asserting, "As long as prisons and the police exist, people will continue to uprise. We all deserve to be free and that means abolishing the prison industrial complex."
as long as prisons and the police exist, people will continue to uprise. we all deserve to be free and that means abolishing the prison industrial complex

here's a testimony from their last uprising at the STL City Jail:https://t.co/Kb3yX79i4g

— khalea (@314khalea) |dc5f7ea3eb8c580e8aa43d64cc99e572|
That Facebook post, from EXPO St. Louis (with EXPO an abbreviation for "EX-Incarcerated People Organizing"), accuses jail officials of inhumane treatment including tear gas to quell a peaceful protest within the jail, inmates not being given sufficient winter clothing, and keeping COVID-19-infected inmates in a cell with other inmates rather than quarantining them.
The post contends that the result of the latter episode was that "24 infected inmates soon turned into almost 50 infected inmates in less than 48 hours!"
The Daily Dot has reached out to Edwards for comment.
The post 'We want court dates': Videos show American inmates setting objects on fire, throwing them out of broken windows to protest conditions appeared first on The Daily Dot.
Read more: dailydot.com