Hot damn, Teen Mom is about to get SAVAGE!
OG star Mackenzie McKee has had a rough go of it lately with her husband Josh McKee's affair last year, a major plot point on the reality show and a huge blow to her marriage.
But if you thought he had the villain edit before just wait because what the reality star formerly known as Douthit alleges he did next is WAY worse: he cheated on her again only this time with a family member!
In a since deleted Facebook post (captured for posterity by the Internet, naturally), Mackenzie let off some steam, writing:
"I know many have it worse than me. this isn't a pity party. Life has really thrown me some huge curve balls. Idk how I've made it here. Obviously the world knows Josh had an affair last year, and then months later repurposed promising he changed and got 'saved.' It really Made my mom happy and I chose to forgive, and trust God. She was so happy for him and her last words to him were 'I'm so proud of you, pray for me.' I was so glad we made it to god before her death."
Smell a big ol' BUT coming on? Yup. After her mother's passing everything changed between the spouses.
Related: Mackenzie Found This Powerful Note From Her Mother Weeks Later
And Mackenzie soon found out it was not just in her head. The 25-year-old momma continued:
"Then in December I was already in deep pain and had to watch her take her last breath and Josh was there for me until 2 weeks later things changed. All of the sudden I was a freak for crying and being depressed. I would lay in bed and wonder why I was so crazy because that's what he made me feel like. And then life slowly turned into him working all day, coming home to shower and fishing all night. Again, I wondered 'whats wrong with me, I need him here to hold me together' but just gave him grace and knew he didn't know how to handle it."
If these feelings sound familiar to you, well, trigger warning we guess. (If they're familiar but you DON'T know what's coming next, well… we are SO sorry…)
She went on, detailing some sleuthing to uncover her partner's latest indiscretions:
"So yesterday I made the random decision to pull joshes call and text logs. To find out that one week after my mom died 'when he started leaving and changing his behavior' to find he was texting a woman 3-600 times per month and calling her on these nights he was 'fishing' until 3am. Obviously another affair."
600 TIMES A MONTH?? DAAAAAAANG! But there was a vicious twist coming:
"So I go to call the number and it was my close cousin Ashley."
Whaaaaaaaaaa?!
Mackenzie doesn't go into more details, but suffice to say it was a shock:
"What all went on? IDK. My family will never be the same and we are all torn. I WAS NOT only hurt by him, but by her."
She finished her post by asking for prayers — because she then declared her marriage was DUNZO!
"I have cried until my eyes were swollen shut. I am in utter shock. I'm now opening my eyes to what a horrible man Josh has been. He has been a lie and how can you watch your wife lose [sic] her mom and make these decisions. But today is the day I walk away. Pray for me, that I can function, feel worthy again and find hope. Pray for my kids, I always wanted my family to work so they don't have to live in two different houses. I was 100% committed to Josh and so much I don't understand…"
"Today is the day I walk away." Powerful stuff.
But does deleting the post mean she doesn't stand by it? Is she backing down from her decision? Or did producers just snap to it and remind her not to give away all that reality TV gold for free?!
Ch-ch-check out the post for yourself and let us know what YOU think will happen next!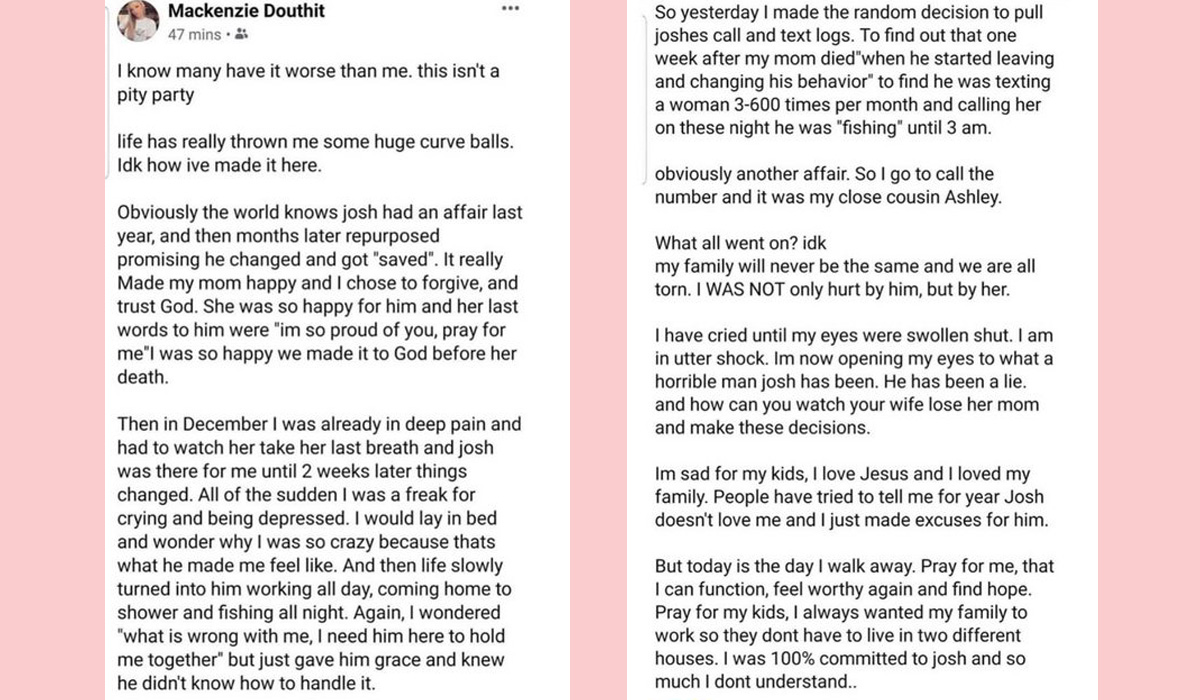 (c) Facebook
[Image via MTV/YouTube.]
The post <i>Teen Mom</i> Star Mackenzie McKee Says Marriage Is OVER After She Caught Hubby Sleeping With HER COUSIN! appeared first on Perez Hilton.
Read more: perezhilton.com