Shia LaBeouf is a riddle waiting to be answered — and he's finally giving us more clues as to what caused his adult life filled with many public outbursts and bizarre behavior.
The Honey Boy star reflected on his childhood and early career in a candid interview on The Hollywood Reporter's Awards Chatter podcast, revealing he always felt pressure to make money to keep his parents from waging war against each other.
The star said he always felt if he "had more money, there'd be no fighting" between his parents, who split when he was just five, adding that working on Even Stevens was an "opportunity to be able to minimize the drama" in his life.
Related: Shia & FKA Twigs Breakup Revealed After He's Spotted With Another Woman
While the Disney Channel show was essentially Shia's big start in the biz, there was self-induced stress to keep the paychecks coming in, because, at the time, Disney Channel shows were known to be short lived. The actor says the network used to cancel a show after three seasons because at that point they'd have to raise salaries — and "Disney wasn't trying to pay salaries like that."
Thankfully, Shia began booking roles in film, including a starring role in the classic movie Holes — during which he found a mentor and father figure in none other than Angelina Jolie's father, Jon Voight.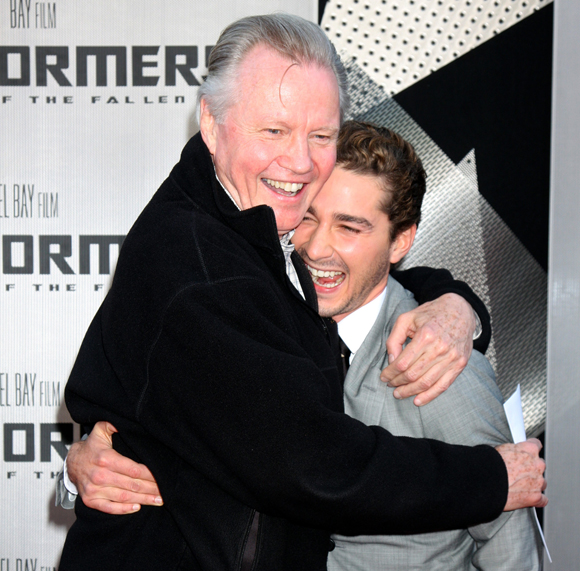 Besties Shia and Jon at the premiere of 'Transformers: Revenge of the Fallen'. / (c) WENN
Shia remembered forming a father-son like bond with the industry vet on set: a close relationship he's surprised his actual father allowed, seeing as Shia's dad was apparently very wary of "chicken hawks" (read: pedophiles). So clearly Voight was trusted NOT to be a chicken hawk.
The 33-year-old shared:
"I don't know why my dad trusted him. My dad was always obsessed with like chicken hawks, so my dad would never leave me with men, like grown men, except Voight. I guess they had a kind of man shake and talk at a certain point."
Shia's relationship with Voight turned out to be positive personally and professionally. The two actors would talk about the "craft," and the Oscar winner would give the rising star acting homework to do after they wrapped for the day.
As for what fueled their close bond, Shia explained it was his passion in growing as an actor and the compliments he showered the Midnight Cowboy actor with, quipping:
"It wasn't cause he'd been watching Even Stevens."
The star also said he knew "how to talk to old timers" because he had been going to Alcoholics Anonymous with his dad for so long.
Another reason why he forged such a close bond with Voight? Shia's other Holes costar Sigourney Weaver steered clear of him because his father was "hitting on her all the time."
Related: Megan Fox Reminisces About Shia After Confirming Their Romance!
Shia and Jon, who got to work together again on projects like Transformers, would continue to foster this friendship long after filming on Holes ended — largely because, according to the actor, Voight had a fatherly void to fill amid his strained relationship with his daughter.
He recalled:
"He had like a vacancy in his life where he kind of wanted to be a pops to someone. He was always a guy in my corner."
But a friendship with Voight didn't stop Shia's childhood trauma from catching up with him as an adult. As fans know, the actor has struggled with alcoholism — unaware it was a coping mechanism for the PTSD he developed in his younger years.
This struggle came to a boiling point last year when he was filming the recent drama Peanut Butter Falcon in Savannah, Georgia. As we reported, this is where he got into a heated confrontation with a black police officer and ended up in jail.
According to the actor, the story was blown out of proportion because no one knew he was being "catcalled" and called a "f**king liberal" for his political beliefs, which fueled his anger.
Ultimately, Shia returned to work with the promise of completing rehab afterwards — but not because of the flood of public criticism he received: it was because he made a promise to his costar Zack Gottsagen, who has Downs syndrome.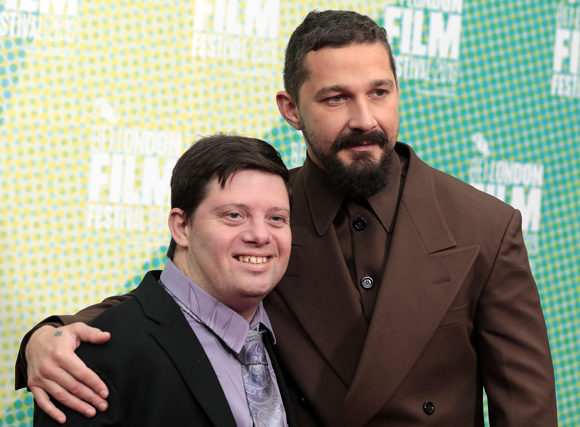 Shia and Zack at the UK premiere of 'Peanut Butter Falcon'. / (c) WENN
While his costar may have wanted him back on set, though, Shia says it was clear no one else on the crew felt the same way. He recalled:
"I'm feeling like people on set think I'm a racist, no, believe I'm a racist and I'm feeling all of that and don't want to be alive. And I'm on this set, can't look anybody in the eyes and the only person I feel like is giving me any kind of connection non judgmentally is coming from Zack."
That's when Shia says he realized he'd hit rock bottom. On the heels of his arrest, he went cold turkey — and he hasn't had a sip of alcohol since then.
Related: Ben Affleck, On The Other Hand…
Once he sought help from professionals, Shia discovered the connection between his substance abuse and the traumas he suffered as a child. He explained:
"It was the first time I'd been told I had PSTD. I just thought I was an alcoholic, like a true blue drunk and I needed to deal with that. I knew it was an issue but didn't know there was this extra whole other thing that was hindering my ability to have any peace in my life and my ability to deal with people."
Through exposure therapy, the star was able to process the trauma he experienced at Disney, the plight of having an alcoholic father, and the stress of years living in the spotlight.
The dark feelings he unpacked from this therapy were all poured into the autobiographical Honey Boy script he says he thought of as a "route towards pulling death out of my pocket and slamming it against a wall."
Rise like the phoenix you are, Shia!
What do U think of the star's struggles?
[Image via WENN]
The post Shia LaBeouf On How His Dark Childhood Fueled His Alcohol Abuse & Why He Stopped Drinking! appeared first on Perez Hilton.
Read more: perezhilton.com