entertainment.sitedfy.com" />
Well, this is one way to mount a defense for your client…
R. Kelly's legal team is contending that the singer los his recent sexual abuse civil case not because he was guilty or anything, but because, they say, he literally can not read. Seriously. That's the singer's own defense, in their own words, according to TMZ.
|98ea633216bdd75adc991feeaab40037|
Per the outlet, Kelly's lawyers Zaid Abdallah and Raed Shalabi filed legal docs in Cook County, Illinois that claim Kelly was first served with papers in the civil suit — which regarded a woman named Heather Williams accusing the singer of allegedly sexually abusing her when she was just 16 years old — while he was in the Cook County Jail at the time for failing to pay child support.
The lawyers argue that because Kelly was served there in jail with the sexual abuse lawsuit papers, he wasn't able to effectively go over the docs with his legal team, and he had to fend for himself trying to decipher them. Per the two lawyers, they wrote in court docs (below):
"[R. Kelly] suffers from a learning disability that adversely affects his ability to read … in essence, he cannot read."
Wow.
It's one thing to argue there's a learning disability at play here — many people around the world deal with many challenges, and to varying degrees — but it seems particularly intense to argue that their client is effectively illiterate. Almost makes you (gag) feel pity for R. Kelly (gag) just a little bit…
Related: R. Kelly Isn't Out Of Hot Water Yet About Missing Child Support Payments…
What's important now is that Kelly's lawyers are asking that Williams' civil court win be thrown out; she won a default judgment agains the R&B singer when he failed to show for a hearing in the case.
But Kelly's lawyers are now saying that the judgment needs to be reviewed, because Kelly's inability to read legal docs adversely affected his ability to defend himself here.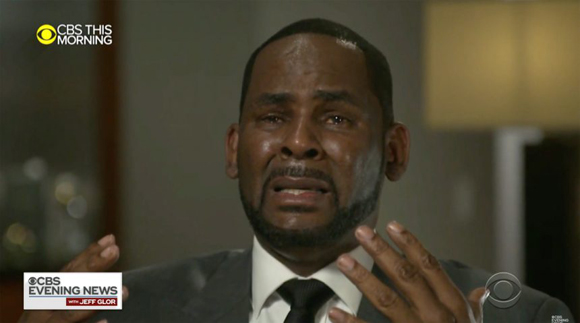 R. Kelly is next due back in court for his chid support case in May. / (c) CBS Evening News/YouTube
We'll see if that works as a legal defense — the illiteracy claim certainly makes for a shocking headline and, again, almost a sense of pity for the singer? UGH… Lots of emotions on that one…
What do YOU think about Kelly's lawyers' claims, Perezcious readers?? Any sense of pity for the singer if things really are so bad that he's illiterate?! Or are you more cynical (like maybe we should be) — is this a tactic simply used by the lawyers to get what they want???
Sound OFF in the comments (below)…
[Image via WENN]
The post R. Kelly's Lawyers Claim Singer Lost His Sexual Abuse Civil Case Because 'He Cannot Read' appeared first on Perez Hilton.
Read more: perezhilton.com