Happy 23rd Birthday, Cody Simpson!
The Australian hunk officially celebrated another trip around the sun on Saturday, January 11. Although he couldn't physically be with his love Miley Cyrus for the special day, the Adore You singer made sure to spoil her man with a custom made gift and sweet social media tributes a day early!
Related: Cody Simpson Is Noticeably Absent In Miley Cyrus' Decade Recap Video??
For those wondering, the 27-year-old singer-songwriter is out of town traveling in Milan but he appeared to get quite the send-off on Friday afternoon.
Taking to her Instagram Story, Miley shared several celebratory messages beginning with this one (below):
"Happy birthday to my best friend in the entire world @codysimpson ☠️💀☠️💀☠️💀I love you and our pirate life!"
Then, she shared a cute video of the pair doing face masks together and added:
"Happy birthday to my favorite human to get weird with on the entire earth. @codysimpson I [black heart emoji] u."
Awww, how sweet! Take a good look at the shots Cyrus shared here: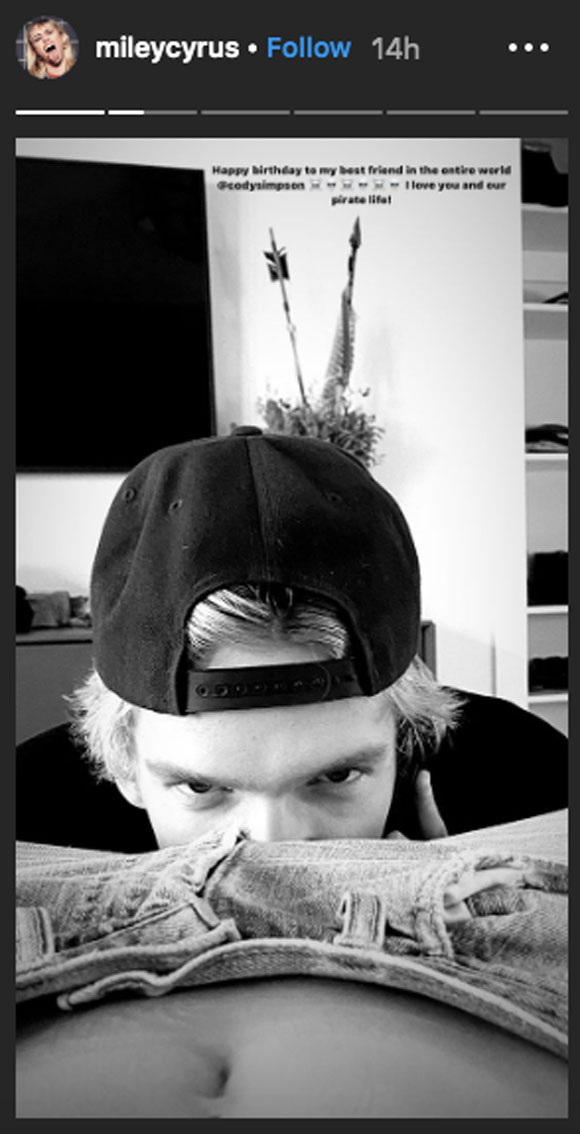 (c) Miley Cyrus/Instagram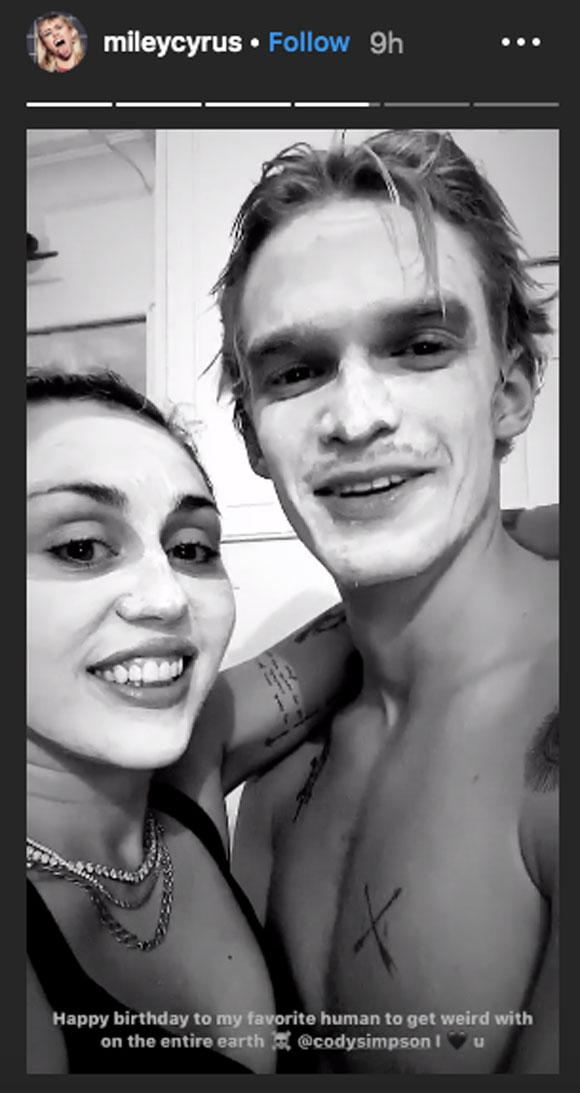 (c) Miley Cyrus/Instagram
As we mentioned earlier, the Hannah Montana alum really went the extra mile with her special present!
She opted for a vintage doctor's bag inscribed with the title of Simpson's upcoming book, Prince Neptune, and also explained the tote was actually a relic from the 1800s. Sweet!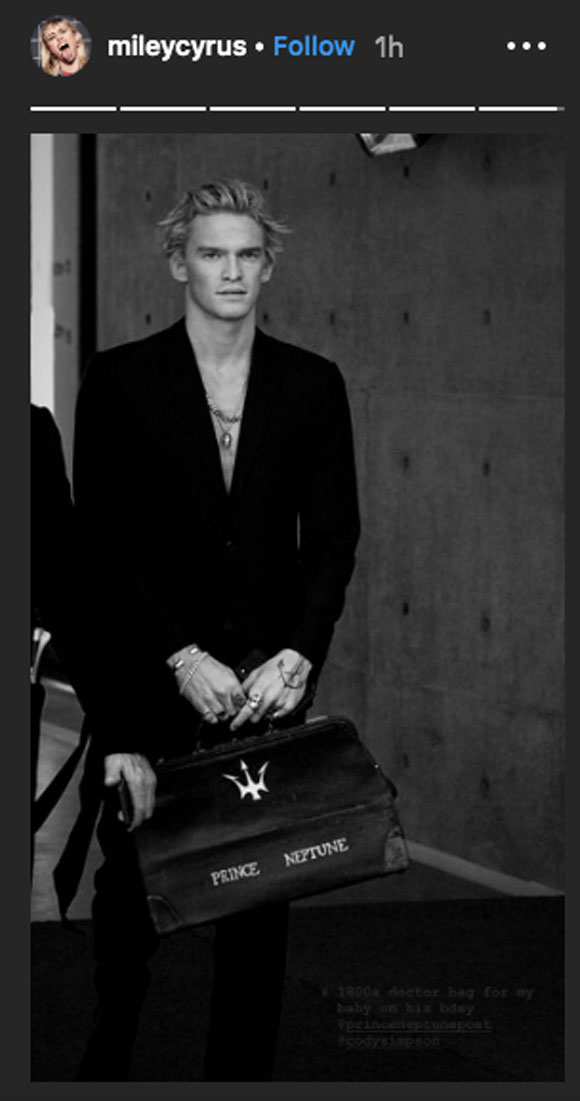 (c) Miley Cyrus/Instagram
You can get an even closer look at it in Cody's recent IG post, too:
View this post on Instagram
Check out the cover of my first published collection of words. The first of many books in my lifetime. I am so beyond stoked. Becoming a published writer is the ideal beginning to a new decade & the highest of honours. Pre-order it at the link in my bio! In stores April 7. PRINCE NEPTUNE 🏴‍☠️ @princeneptunepoet
family:Arial,sans-serif; font-size:14px; line-height:17px; margin-bottom:0; margin-top:8px; overflow:hidden; padding:8px 0 7px; text-align:center; text-overflow:ellipsis; white-space:nowrap;">A post shared by PRINCE NEPTUNE (@codysimpson) on Jan 9, 2020 at 2:11pm PST
Job well done to Mileybird on this one and we're glad to see the birthday boy seemed to appreciate it all!
Of course, things might've been even more memorable if they spent his actual birth date in each other's arms — especially after enjoying their first Christmas as a couple together recently, too. But alas, this will do!
Plus, it's also comforting to see that despite the physical distance right now, these two are keeping their love alive online. The last time the lovebirds went quiet on social media, people were quick to assume they were headed for splitsville. But as Cody's sister Ali (and these pics) recently assured us, Miley and her man are still happily in love.
After her brother was allegedly caught canoodling with Playboy model Jordy Murray late last year, Ali told the Daily Mail Australia things with Cyrus and Simpson were still going strong:
"Yes, [they're] together for sure. [Murray] is his best friend, [actor] Ryan McCarthy's girlfriend of a few years. He's visiting him for a couple days."
Phew! That salacious tea is seemingly all behind us now!
Before you go, check out more fun scenes from the 23-year-old's birthday festivities in Italy: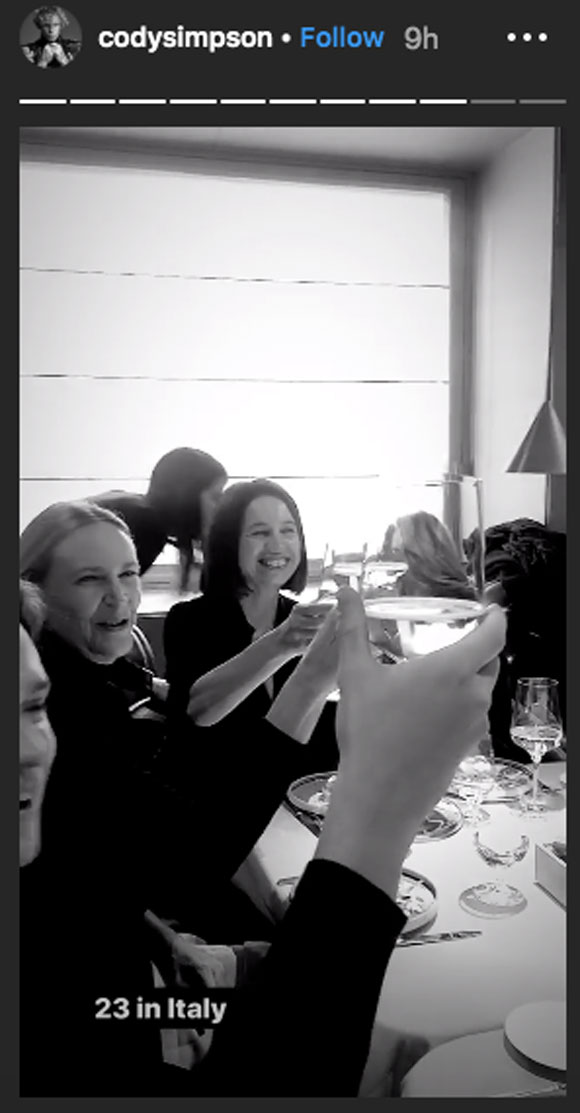 Dinner and drinks with friends and family! / (c) Cody Simpson/Instagram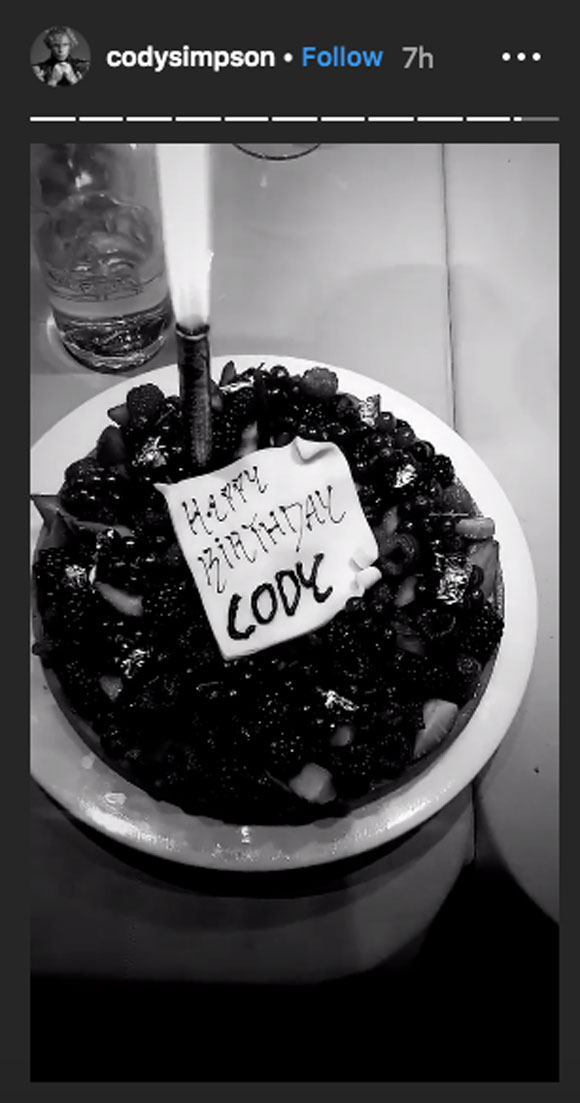 A sweet treat! / (c) (c) Cody Simpson/Instagram
And let us know what you think of his new gift in the comments section (below)!
[Image via Miley Cyrus/Instagram]
The post Miley Cyrus Spoils Cody Simpson With An Expensive Personalized Gift As They Spend His 23rd Birthday Apart! appeared first on Perez Hilton.
Read more: perezhilton.com