Khloé Kardashian is apologizing to fans after an awkward mishap during the People's Choice Awards on Sunday night.
In case you missed it, the Kardashian-Jenner clan scored the Best Reality Show Award at the annual show for their hit series, Keeping Up with the Kardashians, while KoKo also won the title of Best Reality Star. However, the starlet apparently missed the memo, leaving people PISSED as she appeared not to acknowledge the fan-voted prize!
Related: Khloé Kardashian Is 'Really Proud' Of Co-Parenting With Ex Tristan Thompson
The snafu happened right when Khloé and her sisters, Kourtney Kardashian and Kim Kardashian West, along with their momager, Kris Jenner, got up to accept the family's award. Both Kim and Kris spoke on stage, while Khlo-money awkwardly stood smiling behind them.
If you've got nothing good to say, better to say nothing at all??
As it turns out, the 35-year-old didn't even know she WON, despite a possible nudge from her older sis! Late last night, True Thompson's momma took to social media and tried to clear up what happened on stage.
On Twitter, she responded to a fan's comment and wrote:
"It's so beyond loud in there. I had no idea I won an individual award until we walked off stage. I feel so badly right now. I am so f**king grateful and appreciative! I can't believe I didn't say anything but I didn't hear that I won until after."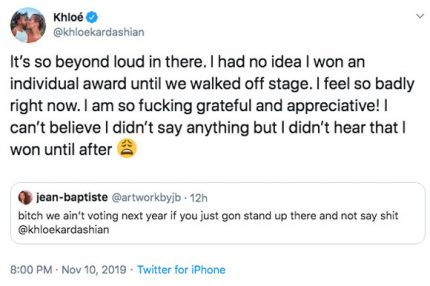 (c) Khloé Kardashian/Twitter
Meanwhile, another one of her followers chimed in, asking us all to give the starlet a break over the situation. She responded: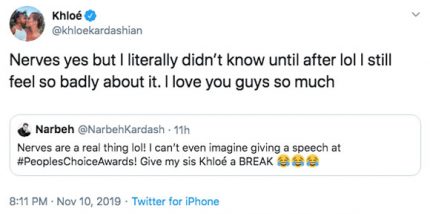 (c) Khloé Kardashian/Twitter
For those who missed the broadcast, it's worth checking out the clip (below) for some added real-time context:
While its clear Khloé didn't say a peep in the heat of the moment, she did continue her apology tour on her Instagram and addressed fans again with Kourt by her side, explaining:
"Just so everybody knows, it's so awkward, like, when you go on stage. I know, Kim is a G and she kind of takes over and she will talk. Kourtney and I are in the back like… We never really know what to say and we're so grateful, we're so thankful. I won an award as well, but we just get nervous. I know people don't think we do."
For what it's worth to all of the Khlovers out there, the Good American creator did finally get her time to shine later in the evening when the crew got together to celebrate Corey Gamble's birthday which was also on Sunday.
Kim put her sissy back in the spotlight for an impromptu acceptance speech during the intimate dinner gathering:
View this post on Instagram
Okay, so, this totally doubled as a promo for her KKW Fragrance collaboration. But hey, be gracious AND get those coins, right?! LOLz.
Reactions to all of this, Perezcious readers? Share your thoughts with us in the comments section (below)!
[Image via E! News/YouTube]
The post Khloé Kardashian Apologizes To Fans After Awkwardly Missing Her People's Choice Award! appeared first on Perez Hilton.
Read more: perezhilton.com