Jenelle Evans is ready to protect herself and her kids by any means necessary amid her split from David Eason.
Less than a week after the starlet announced they were getting a divorce, the Teen Mom 2 star has filed for a temporary restraining order against her husband of two years, citing his recent reckless and disturbing behavior as the cause.
Related: Jenelle Evans Is 'Desperate' For MTV To Rehire Her Back On 'Teen Mom 2'
According to documents obtained by E! News, the 27-year-old reality star alleged Eason physically and verbally abused her on 11 different accounts during their union. And yes, for all those wondering, one of those incidents included when the 31-year-old pipe welder irresponsibly killed their dog Nugget in September.
In the official docs filed on Monday, November 4, Evans pleaded her case and said:
"Because of his recent threats, his history of violence, his erratic behavior and his large stockpile of weapons, I am scared for my life and my children's well-being."
As our readers know, Jenelle has her kids to worry about amid the drama, including five-year-old Kaiser — whom she shares with ex Nathan Griffith — and two-year-old Ensley, who she shares with Eason. She is also the mother to 10-year-old Jace, but doesn't have full custody of him.
This latest order gives temporary custody of the two youngest children to Evans, and "mandates that David will have no contact with Jenelle or the children and will not post about Jenelle on social media or the internet," according to the outlet.
Based on the serious claims made by the MTV star, we'd say this legal action couldn't have come at a better time.
In the report, Jenelle cited an account of verbal abuse on February 17, 2019, when David allegedly said:
"You can die for all I care. You're a piece of s**t. Biggest piece of s**t I've ever seen."
WOW.
Certainly a poor choice of words for the mother of your kid…
The momma of three also said her now-estranged husband then allegedly locked her son Kaiser in a running car and toyed with the little one, making him believe he was stuck inside. She explained:
"While Kaiser was trying to unlock it, David continuously locked it again with my spare key, scaring both me and Kaiser."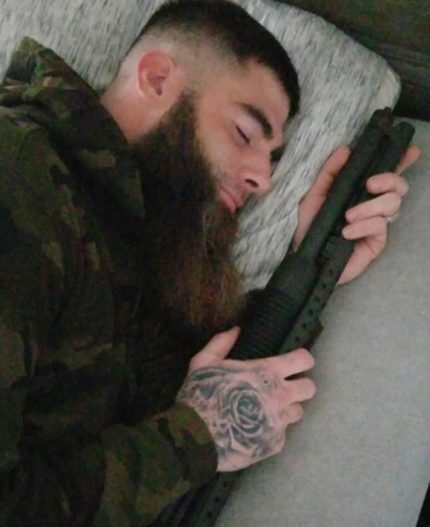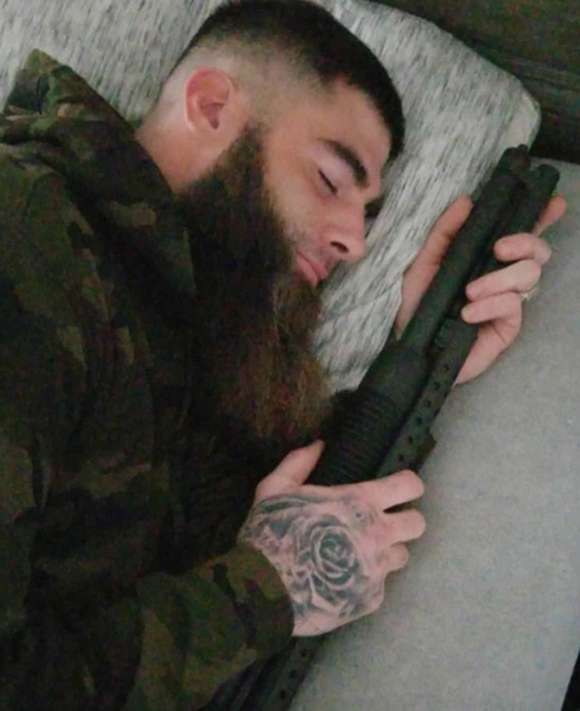 David's ongoing, erratic behavior has gone on long enough! / (c) David Eason/Instagram
In another separate incident last month, the 16 & Pregnant alum said Eason texted her stating, "My goal in life is to make sure you regret leaving me like this." The haunting message seemed to be the final straw for her, as she wrote in the filing:
"Given his actions and knowing his temperament, I believe he was implying that he would kill himself if I do not come back to him. For all of these reasons, I'm afraid that David will harm me or my children, and that he will continue to threaten me using text messages, phone calls, or on the internet."
Related: David Eason Throws Shade At Jenelle Evans On Instagram Following Split
This all comes just one day after the North Carolina native claimed his wife "disappeared" with their daughter Ensley on Tuesday. Per TMZ, David also reported his Anatolian Shepherd had gone missing from the couple's previously shared property the same day.
Although, based on the 9-1-1 call transcript obtained by Radar (below), it's unclear if Jenelle made off with their pets, too. He said:
"I think someone stole my dog and I want to make a report. I heard a car come down the road and stop. My driveway is really long, so I couldn't really see, but I heard a car stop and I heard the dogs bark a couple of times. Then one dog came running back, and the other dog has been gone ever since. I didn't see the car."
Interesting how the concern is there for his dogs and wasn't present for poor Nugget…
Reactions to all this, Perezcious readers?! Was it only a matter of time before David's disturbing behavior against his family caught up with him? Sound OFF with all of your opinions in the comments (below)…
[Image via Fayes Vision/WENN]
The post Jenelle Evans Gets Temporary Restraining Order Against David Eason Amid Divorce Drama appeared first on Perez Hilton.
Read more: perezhilton.com