Playtime is over for Hannah Brown!
After weeks of viral TikTok dance videos and plenty of fun in the sun with Tyler Cameron and his friends down in Jupiter, Florida, the former Bachelorette appears to have returned home to Alabama to be with her family. Sorry, Bachelor Nation fans — this means the beloved "Quarantine Crew" is no more!
Related: Hannah Brown Slammed For Joking About Her 'Contagious' Smile Amid COVID-19
Cameron's BFF and future ABC contestant Matt James confirmed Hannah's departure while speaking to followers via his Instagram Story. Referring to Brown as "Breezy," he said:
"Breezy is back in Tuscaloosa, Alabama, her and Marshall drove home late last night, they want to ride this thing out with their families. In the meantime, please continue to share information with us on how we can allocate resources and information to service our students, not only in New York, but all across the country, and that would be via our page ABC Food Tours."
As seen here:
View this post on Instagram
Matt announces that Hannah has returned to Alabama to be with her family and asks that people continue to share ideas with @abcfoodtours on how they can support students 👏 . — Follow @mattjamesfan for more Matt James + Myler content 🌹 . . . . . #mattjames #mattjamesfan #thebachelor #thebachelorette #bachelornation #hannahbrown #tylercameron #quarantinecrew #abcfoodtours #forthekids
Wondering who the heck Marshall is? Matt is most likely referring to Marshall Eads, a singer and friend of Brown's who also posted evidence of his travels from the Sunshine State back to Alabama. Also, here's Hannah showing off her mom bringing her a plate of food, so, she's definitely not with Tyler right now: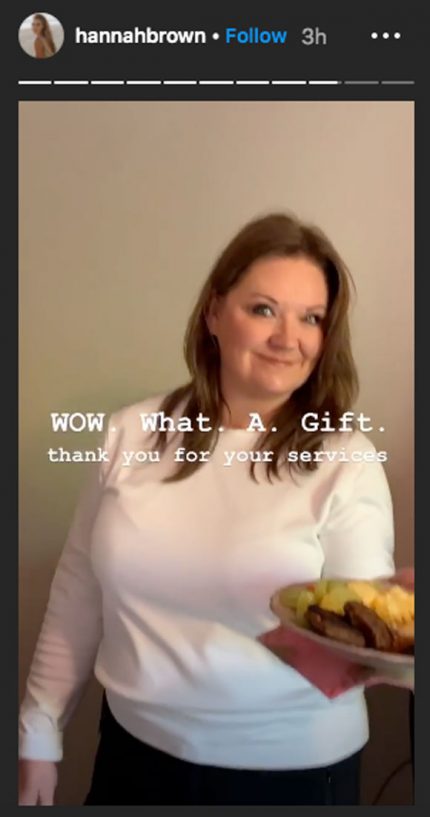 Alabama-Hannah is back home with the fam! And, being treated like a queen from what it looks like! / (c) Hannah Brown/Instagram Story
As we mentioned earlier, this crew has been together for weeks now but there's no place like home, right? Brown arrived in her ex's hometown on March 14 and while it gave some people pleasure to see the former (or, now current?) lovebirds shacking up this whole time, it makes sense to stay home and shelter in place with family. It's not like they were doing a very good job with social distancing amid the coronavirus outbreak, anyways!
But what does this mean for their rumored relationship?? We can live without the dance videos but their apparent rekindled connection can't just fizzle out like that, can it?
Related: Tyler Trolls Peter Weber & Kelley Flanagan For Their Latest TikTok Vid!
Late last month, an E! News source claimed neither of them are "in position to date right now," despite leaning on each other through hard times. As you'll likely recall, the 25-year-old starlet dropped everything to be by Cameron's side as he mourned the sudden death of his mother Andrea Cameron in March.
Another insider told Us Weekly "it's been a hectic year for them both" and "they finally found some time in their schedules to connect." It was hard for fans not ship their romance again but it appears we're pressing pause on all of those rumors for the time being.
[Image via WENN/Avalon/Hannah Brown/Instagram].
The post Hannah Brown Returns To Alabama Following Weeks-Long Stay With Tyler Cameron & 'The Quarantine Crew' appeared first on Perez Hilton.
Read more: perezhilton.com