Felicity Huffman has begun her prison sentence.
After pleading guilty to mail fraud (a criminal charge which doesn't adequately describe the fact she bribed a test proctor $15,000 to redo her daughter's SAT test), she became the first parent to be sentenced to prison in the infamous college admissions scandal.
Prosecutors wanted a month in prison, her defense team asked for zero time at all; the judge ultimately compromised with a sentence of 14 days.
Related: Lori Loughlin Facing A Much Longer Sentence, Per US Attorney
Some saw the two-week term — which also comes with a fine of $30,000, a year of supervised release, and 250 hours of community service — as too harsh a sentence. Others saw it as a slap on the wrist considering how much time a lot of poor, non-famous people end up serving for non-violent crimes. (For instance, the mother who was sentenced to five years for accidental voter fraud.)
However you feel about the sentence, it's happening now. In a statement, her rep said:
"Felicity Huffman reported today for sentencing to the Federal Correctional Institution in Dublin, CA. Ms. Huffman is prepared to serve the term of imprisonment Judge Talwani ordered as one part of the punishment she imposed for Ms. Huffman's actions. She will begin serving the remainder of the sentence Judge Talwani imposed — one year of supervised release, with conditions including 250 hours of community service — when she is released."
Very straightforward and factual — not at all the remorseful tone of Felicity's public admission back in April. But hey, the rep isn't the one with a star on the Hollywood Walk of Fame.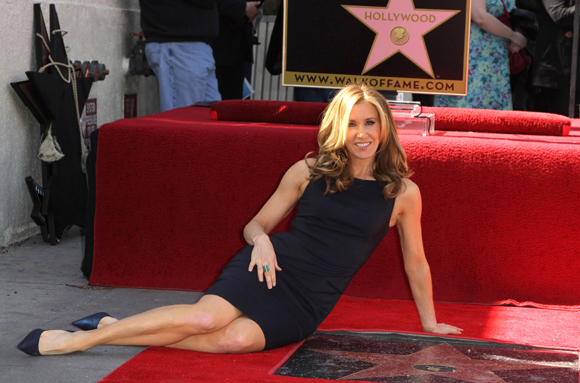 Felicity and husband William H. Macy were honored with Stars at the Hollywood Walk of Fame in 2012. / (c) WENN/FayesVision
So what do we know about this prison where Felicity will do hard time for two weeks?
It's a low-security all-women's federal facility in Northern California. It's apparently known locally as "Club Fed" for its resemblance to a resort.
And for a prison it does sound rather cushy. The Blast got hold of the "commissary list" of amenities you can purchase, provided you have the money. Which, of course, she does.
Among the refreshments are French vanilla cappuccino, bottled water, and Taster's Choice coffee. There are also a range of beauty products available, including body wash, St. Ives lotion, apricot scrub, and cocoa buttercream. Not luxury exactly, but Felicity certainly could have had it worse on the set of a low-budget indie film.
Apparently her team asked for her to go to this specific facility because it's "the closest to Ms. Huffman's residence."
What do YOU think about Felicity's facility??
[Image via Channel 5/David Parry/PA Wire/WENN.]
The post Felicity Huffman Reports To 'Club Fed' Luxury Prison Facility! appeared first on Perez Hilton.
Read more: perezhilton.com