Dog the Bounty Hunter reminds everyone to not believe everything they read.
As we reported, wife Beth Chapman was placed in a medically-induced coma in a Hawaii hospital after experiencing "a choking emergency" reportedly related to her stage IV throat cancer.
Related: Dog Sued For $30 Million By A Rival Bounty Hunter!
Amid reports she is not expected to recover, her husband released a statement on Tuesday on Twitter calling out the "fake news" that is being reported.
The bounty hunter — born Duane Chapman — wrote:
"90% of what you're hearing is fake news. I don't mean to be nasty but some are filling in the blanks. @wgnamerica will be releasing an accurate update soon. Please keep prayers coming!"
According to TMZ, Beth's family — including her mother, children, and grandchildren — gathered at her bedside to say their goodbyes.
While sources said there is very little that can be done for Beth at this moment, the family was still said to be discussing life support options with her doctors — including the possibility of her undergoing a tracheotomy procedure to have a feeding tube inserted into her body.
Regarding her coma, one of Beth's biggest issues is her lack of oxygen. If a tracheotomy was performed, it could assist with oxygen flow, in addition to getting her access to better nutrition.
The Dog and Beth: On the Hunt starlet has been fighting the aggressive disease since her diagnosis in September 2017.
Though she beat the cancer for a period of time, it returned in 2018 — which forced her to go back into treatment.
In November, Beth had surgery to remove a mass from her throat and started chemotherapy the next month. She was hospitalized again in April.
Throughout the ordeal, Dog has been trying to stay positive.
Over the weekend, he wrote on social media:
"Please say your prayers for Beth right now thank you love you."
On Monday on Twitter, Dog tried to lighten the mood by poking fun at Beth's extra glam nails. He tweeted from her hospital bed: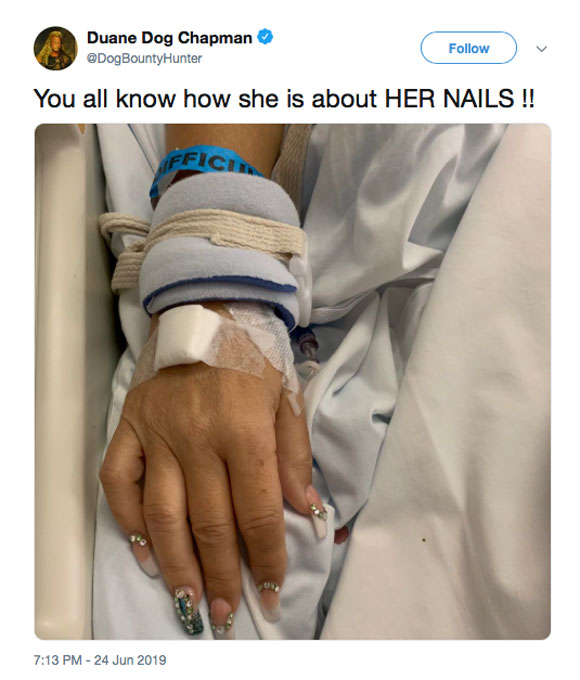 Dog the Bounty Hunter is by wife Beth Chapman's side. / (c) Dog the Bounty Hunter/Twitter
Dog the Bounty Hunter, which chronicled Dog's dangerous occupation, premiered on A&E in August 2004.
Though the show was canceled in 2012 after eight seasons, the couple starred in a spinoff, Dog and Beth: On the Hunt, which dropped on April 2013.
A new series, Dog's Most Wanted, will air on WGN America in 2020.
[Image via Nikki Nelson/ WENN.]
The post Dog The Bounty Hunter Calls 'Fake News' Amid Wife Beth Chapman's Cancer Battle! appeared first on Perez Hilton.
Read more: perezhilton.com