This is one of the all-time best ways to pass time in quarantine and away from the coronavirus pandemic!
Chrissy Teigen and John Legend cordially invited fans, followers, and social media observers to the event of the century this weekend: the wedding of Chloe and Nosh, two stuffed animals belonging to almost-4-year-old daughter Luna Simone. Yes, really!
Related: Here's Everything Coming To Disney+ In April!
The 34-year-old momma shared video of all the nuptials and the events leading up to the big ceremony on her Instagram Stories throughout the weekend, including a formal invitation (below) teasing a special performance by Legend and a recording by Selena Gomez: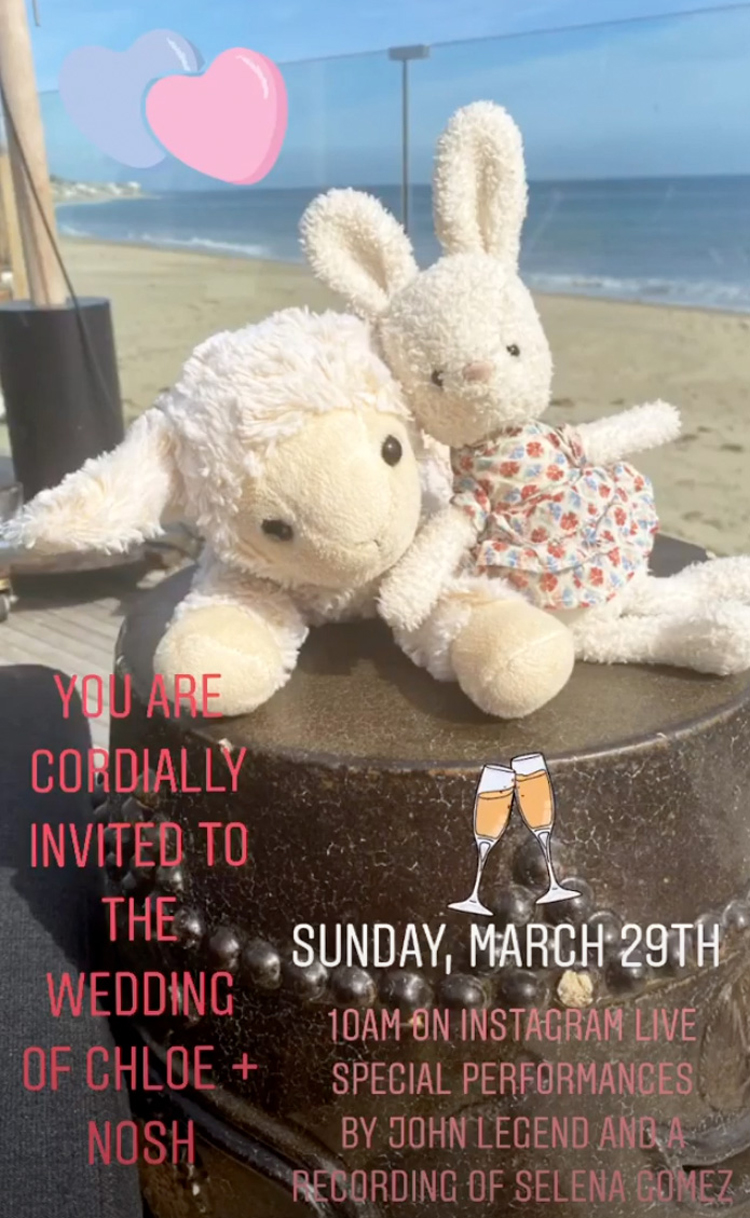 What a memorable, original, hilarious (and super cute) event!!! / (c) Chrissy Teigen/Instagram
LOLz!!! This is too funny!
At one point on video, Teigen — who called the event "the wedding of the century," natch — said to fans and followers:
"We're excited. It's a beautiful day. It's a good day for a wedding. I don't know how many of you have been to a wedding between two stuffed animals, but what I've found is they are everlasting."
Ha!!! Such a good, intricate, wonderfully original idea to pass time during self-isolation and social distancing!!
Fans went crazy for the whole thing, lighting up Instagram and other social media outlets with their reactions to the hilarious and original creation:
We just witnessed the wedding between two stuff animals at the Legends House 😂😂😂 @johnlegend and @chrissyteigen are the best 😂🥰 pic.twitter.com/szQ3tPpLTs
— Marlen Pirela (@MarlenPirela) March 29, 2020
As the model and Lip Sync Battle host began to officiate the ceremony itself, she said of the situation:
"Thank you for gathering here today on this very special day. It's a beautiful day. Well deserved in what has become 26 weeks of an incredible relationship. It was unexpected at first, as there were many different animals in the house. But who knew that Chloe and Nash would get along so well. They've loved each other since the first second they laid eyes one another and they've never spent a night apart."
Awwww!
Teigen later introduced her own hubby to sing the happy couple's "favorite song, as requested by them" (LOLz!) which turned out to be Gomez's power pop hit Can't Keep My Hands To Myself. Oh noooo! HIGHlarious!!!
Related: Chrissy's Barter Exchange With A YouTuber Was Truly Iconic
The whole thing would've gone on from there, with a big reception planned for all of Luna's stuffed animals after the wedding ceremony itself, but the party had to be delayed a bit. As Chrissy explained on Twitter to a fan, it turns out the entire family was so exhausted from the "wedding" that the party needed to be pushed back due to nap time:
Everyone fell asleep so it'll be tonight! https://t.co/MgwKckMgVS
— chrissy teigen (@chrissyteigen) March 29, 2020
Ha! Love it!!
At least the lovely stuffed animals got to cut the cake together before they all succumbed to nap time:
— chrissy teigen (@chrissyteigen) March 29, 2020
Adorable! Such a special moment that lamb and bunny will both remember for the rest of their lives together. LOLz!!!
Ahhh, the things people will do to pass the time during this quarantine… so well done!
Bravo, Chrissy and John!!
[Image via WENN/Instar/Instagram]
The post Chrissy Teigen Officiates Emotional Wedding Ceremony For Two Of Daughter Luna's Stuffed Animals! appeared first on Perez Hilton.
Read more: perezhilton.com